TargetngOne SARS-CoV-2 Antigen Self-Testing Kit has obtained the EU CE certificate!
release date:2022-04-26
On April 22nd, the novel coronavirus antigen self-test kit independently developed and produced by TargetngOne was awarded the EU CE certificate, which means that the self-test kit can be sold in the 27 EU member states and countries that recognize the EU CE certification, further enriching TargetngOne's solution in the field of full scenario-based novel-coronavirus testing to meet overseas market demand.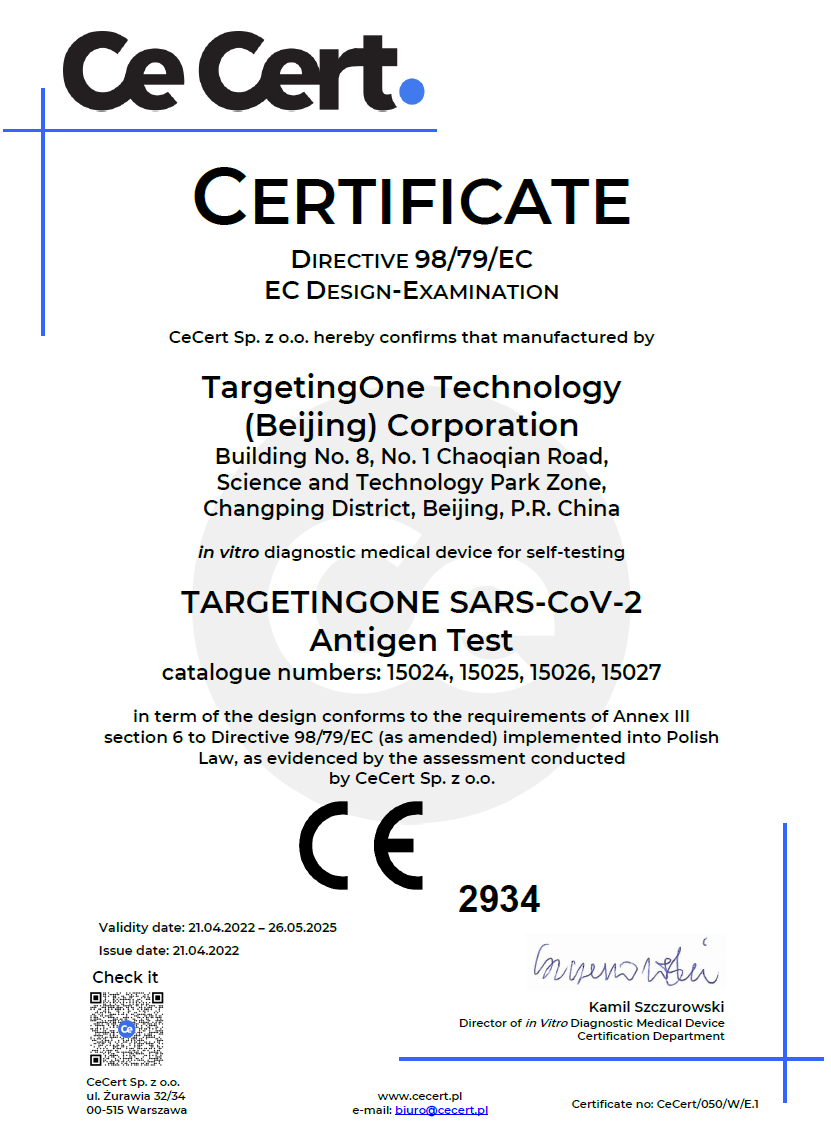 The CE marking is different from the conventional CE Self Declaration of Conformity, it requires a strict technical examination and testing of the manufacturer's medical device products by a third party notified body in accordance with the EU's accreditation, which proves that the products are safe, clinically reliable and meet international technical specifications before a certificate is issued. The CE self-test certification cycle is long and demand is strict, and is a test for the comprehensive strength in manufacturing.
SARS-CoV-2 Antigen test kit for personal and family self-testing, developed and produced by TargetingOne, which can rapidly detect the presence of novel-coronavirus in nasal swab samples and has the following main features:
Excellent performance: high sensitivity, high specificity and good accuracy.
Rapid detection: short interpretation time, minimum 10 minutes.
Convenient: easy to operate with anterior nasal swab sampling.
Convenient storage: stored at room temperature with a 24-month guarantee.
Detection limit: not less than 100 TCID50/mL.
Multiple sizes: 1 / 2 / 5 / 25 tests.
It has been included in the "White List" of the Ministry of Commerce for the exported epidemic prevention supplies, and has played an important role in the auxiliary screening of suspected patients and high-risk groups with shorter testing time, lower cost and convenient self-testing methods.
The company has three major technology platforms based on digital PCR, quantitative fluorescent PCR and immunoassay, covering the whole process from sample collection to testing. This time, TargetingOne received the EU CE certificate for antigen self-testing, further enriching our full range of novel coronavirus testing solutions. Up to now, all of TargetingOne's novel coronavirus related products have been qualified for export and registered abroad, contributing to the continued fight against global epidemics.
With the gradual opening up of the world, antigen self-testing is a major testing tool abroad and a core part of COVID-19 prevention and control measures in Europe and the US. High-quality self-testing products will play an important role in the regular prevention and control of the epidemic. From the point of view of overseas epidemic prevention and control, there is still a broad market demand for SARS-CoV-2 antigen self-testing products.